In 1769 Beyers' Dutch office was a specialist in selling coffee and tea. And we can proudly look back on that heritage of 250 years in the coffee trade.
Beyers 1769 is a product that contains all of our expertise and all the innovations Beyers has implemented since then.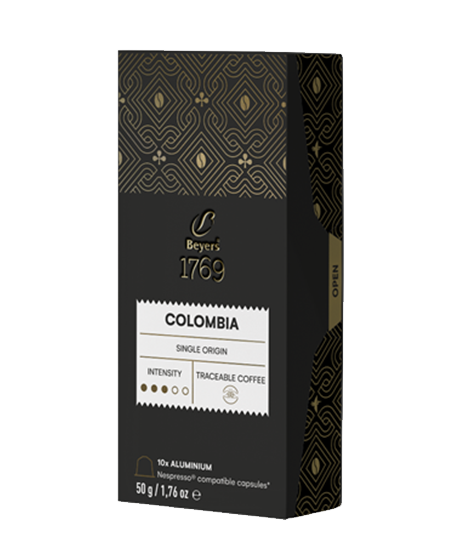 The Beyers 1769 coffee capsule
Beyers Koffie carefully sources this delicious single-origin coffee from Colombia. This coffee is fully traceable, thanks to our collaboration with Farmer Connect. Farmer Connect uses blockchain technology to trace our coffee along the supply chain.
The Beyers 1769 coffee rests in an aluminium capsule, perfect for your Nespresso® machines.
You can now also donate directly to the farmers that grew your coffee, with Thank my Farmer. Thank my Farmer is a platform you access by scanning the QR code on your pack of coffee. There, you receive additional information about your coffee, where it's from and which farmers contributed to the beans in your pack. You'll also be able to give back to your farmers and their community.