Fortisimo™ is our fancy label that is immediately available for you in your market. Think affordable, yet with guaranteed delivery of a great coffee in your cup.
Fortisimo benefits from our years and years of expertise in coffee roasting, blending our selected beans into the most balanced coffees for you to enjoy. We have a wide variety of types in store for you, ready to pick the one that fits your needs the best: Beans, Pads, Nespresso®- and Dolce Gusto® compatible capsules.
Responsible entrepreneurship sits at the heart of everything we do, we want to make every cup of coffee a sustainable one. Therefore, the Fortisimo™ coffees are roasted CO2-neutral. We reduce the emissions where we can, and where we can't we compensate by investing in climate-friendly projects. Moreover, these coffees are sourced CO2-neutral and they are Rainforest Alliance labelled.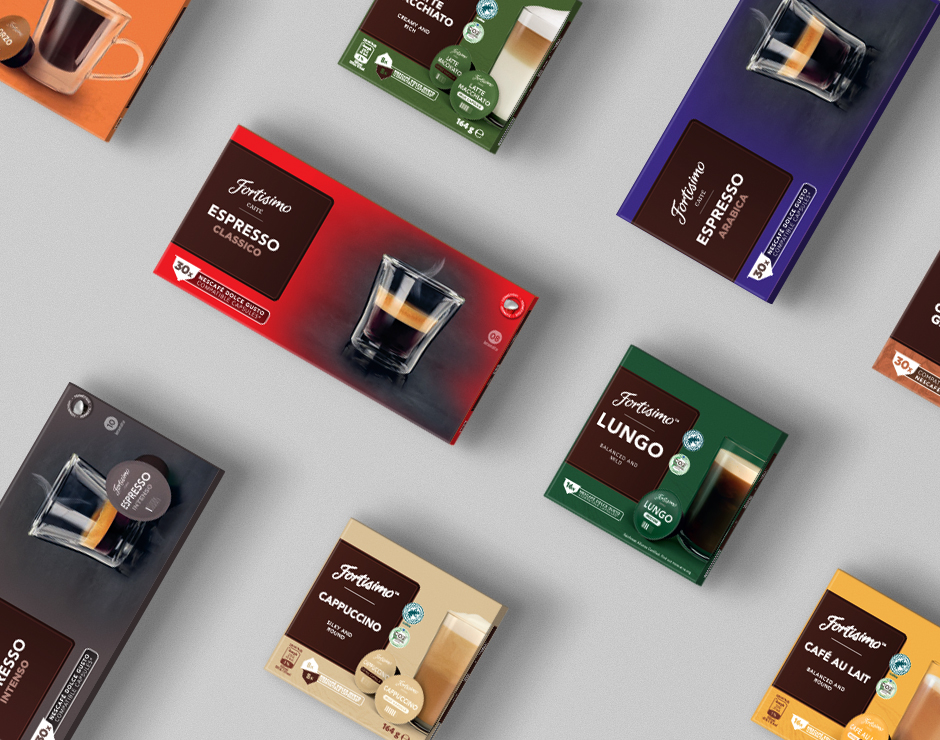 Dolce Gusto® compatible capsules
We pack our coffees in the most qualitative solutions for our fancy label coffee brand. Also, the Dolce Gusto® compatible capsules which we use, meet the highest quality standards, guaranteeing perfect functionality and freshness. We have packs of 16 and 30 capsules in store for you with a great selection of different coffees for you to explore.
Fortisimo assortment overview
Download the entire assortment catalogue to discover all different SKU's which the Fortisimo range has to offer. Fill out the form below and get our most up to date range overview of the Fortisimo brand.